May of 1985 is a turning point in the recording career of Bill & Barry. It began when Jimmy Yaeger, who was playing synthesizers for them, brought a Roland TR-707 digital drum sequencer to a session. Both of them were blown away by the sound, and programmability of the device. They immediately recorded "Always Been A Fool," "Best For Me," and "You've Got To Do It." What made this device most useful to Bill & Barry, was that it could generate a sync track, so that the device would follow the tape, and the drums could be mixed later. Even better, with the ability to sync up later, the drum parts could be changed later. Of these 3 songs, only "Best For Me" has the original drum part in the final mix.
The other significant thing at this point was that Barry bought his own synthesizer. This made recording for Bill & Barry much easier. They didn't have to schedule around other musicians, and they could experiment on their own for new sounds.
The first session with Barry's new synthesizer was "Without You." Bill programmed a drum pattern for them to follow, and he played a rhythm guitar, while Barry laid down a synth pad. From there they worked together on deciding how to build the layers of the tracks.
The most significant track from this collection is probably "Guilty." They added a midi sequencer to their arsenal, and really gave it a test drive on this track. Together they created a production that they could have only have dreamed of just a year earlier.
From here on the Bill & Barry collection is not in chronolgical order, because it was during the recording of this volume, that they began thinking in terms of an entire project, were certain songs just belong together. This album has existed, with this title and this running order, since it was completed in May of 1987. The only other albumsin this collection, with this distinction were the 2 that were recorded in 1994, TODAY & MERRY CHRISTMAS FROM BILL & BARRY.
It is with great pride and pleasure that we present the entire Bill & Barry collection, digitally remixed.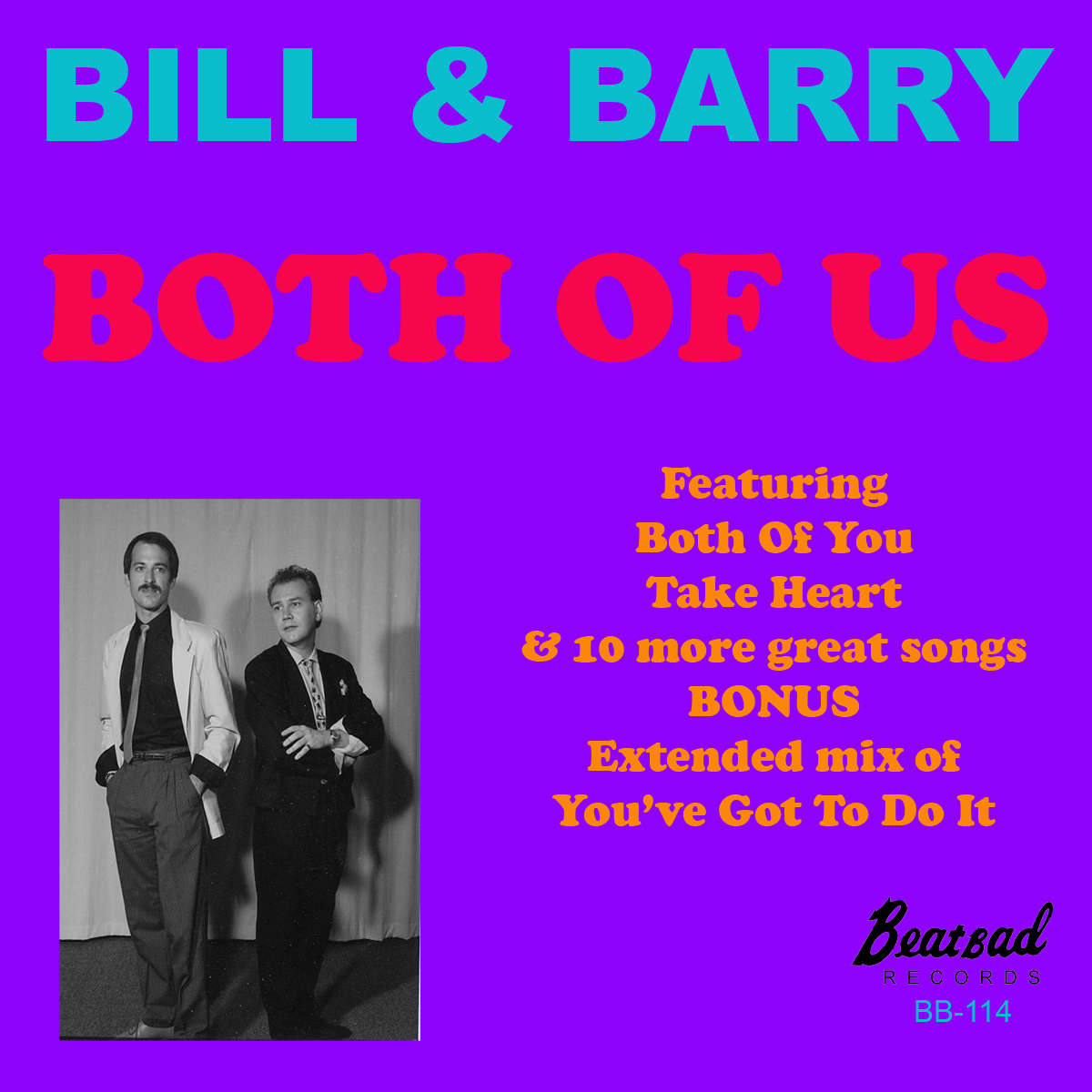 SONG SELECTIONS
| | | |
| --- | --- | --- |
| | | mp3's |
| Guilty (Knoedl) | | |
| She Makes Me Smile (Knoedl) | | |
| (What Would I Be) Without You (Kern) | | |
| The Both Of You '87 (Knoedl) | | |
| You Lead Me On (Kern) | | |
| I Want You Back (Knoedl) | | |
| Best For Me (Kern) | | |
| Always Been A Fool (Knoedl) | | |
| Take Heart (Kern) | | |
| Imaginataion (Knoedl) | | |
| I Loved You So (Kern) | | |
| You've Got To Do It (Kern) | | |
| You've Got To Do It - Extended Mix (Kern) | | |
Click the "Audio Samples" button to audition
each song. A new window will open.