BARRY KNOEDL - page 5
In 1984, Barry upgraded his studio to from 4-track to 16-track. For the first time they became almost entirely self-reliant, calling in other musicians only when they needed a specific sound, or when they were working under time constraints that would make using outside musicians more prudent. The advent of MIDI was a big leap forward for Barry and Bill. It added the possibility of orchestration to their recordings. This can be heard most prevalently on their Christmas CD released in 1994. Between 1974 and 2005, Barry and Bill recorded hundreds of songs, between 1974 and 1976 on 2-track, between 1976 and 1984 on 4-track, and between 1984 and 2000 on 16-track. In 2001, Barry set up a digital recording station on his computer system, and all of their recordings since have been recorded digitally.
Bill Kern was murdered in his video store on December 28, 2005. Since that time, Barry has been working on digitally restoring all of their analog tapes. Two major finds during this process have been the unreleased Beat Bad Records LP's by The Badbeats, and Jimi Lalumia and The Psychotic Frogs. Beat Bad Records is now looking into the feasibility of releasing both of these projects from the early 1980's on CD.
Check out our YouTube videos!
Please use the CONTACT US button to let us know if you would be interested in either of these releases.
| | |
| --- | --- |
| | |
| Barry with his daughter, Cassandra | Cassandra |
In 2001, Barry's daughter, Cassandra, began writing songs. Barry produced and entire CD of songs that Cassandra had written in the summer of 2004. There has been little or no time to promote this project while Cassandra finished school, but we may put a selection of these recordings up on our web site to see if there is any interest in a Beat Bad Records release of a Cassandra Knoedl CD.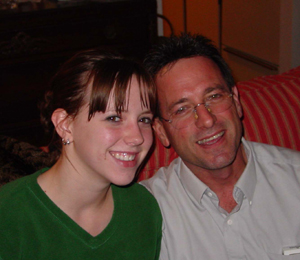 Barry with his daughter Antonette
Barry is a retired vocal music and theatre teacher. He taught at a high school on Long Island, N.Y. He wrote many vocal arrangements for his vocal jazz choir. He is currently living in Texas.