A collection of original songs for Christmas by Bill Kern & Barry Knoedl.
After 13 years without a release, Bill Kern and Barry Knoedl decided to complete a project they had started in 1981, when they wrote World of Peace and Joy and Christmas time. In the fall of 1994, Bill had already written 5 Christmas songs. Three of Bill's songs had already been recorded; Barry had written one, which had been recorded in 1992. Bill wanted to make a Christmas album to give to friends at Christmas, but felt that if he was making the album with Barry, then Barry should contribute an equal amount of songs. Within the five weeks they spent recording this album, Barry wrote All I Want For Christmas and Sing Out All Over The World, and completed Merry Christmas Baby - song he had been working on at Christmas 1993. Bill wrote one additional song (Everywhere It's Christmas), and together they wrote Celebrate The Season and A Dickens Christmas.
The production on this album is outstanding. Bill & Barry had a clear idea of how each song should be treated. The songs are varied in style. From the typical Power Pop style that Bill Kern & Barry Knoedl were known for in the early 80's, to sweet ballads, jazz, traditional pop, and full blown orchestrations. As recording progressed, they realized that this was more than a gift for a few friends. This project stood far above and beyond any they had ever done before. They knew it was time for another Beat Bad Records release. As the recording was coming to an end, and mixing began, Bill asked Bill LaCascia, a greeting card designer, to sketch a few ideas for the cover. LaCascia's style and sense of humor was just right for a Beat Bad cover. Once the design was chosen, LaCascia drew the finished picture in color, and Bill Kern completed the front cover of the CD while Barry completed the back. Lyrics for all the songs are included in a booklet inside the front cover (although some of them are wrong - taken from early drafts of the songs).
The album was originally released on cassette for Christmas 1994. The CD was released for Christmas 1995. When the cassette was completed, a copy was sent to William and Jean Marie Dickens, William is the great-great grandson of Charles Dickens, and Jean Marie (his wife) heads the Charles Dickens Foundation, a charity for children with serious illnesses. Bill & Barry thought they might like a copy, since Charles Dickens was the major inspiration for the crown jewel of the album, A Dickens Christmas. The Dickens were quite impressed with the entire album - not just the Dickens Suite. The Dickens were planning a visit to New York City just before Christmas 1994, and asked to meet with Bill and Barry. Mrs. Dickens thought the Dickens Suite was a wonderful tribute to her husband's ancestor. Mr. Dickens spoke glowingly of the compositions and orchestrations.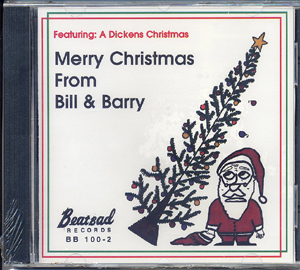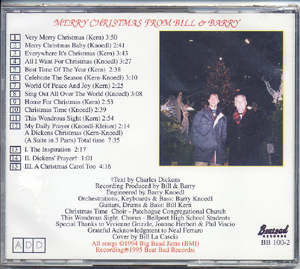 SONG SELECTIONS
A Very Merry Christmas (Kern)
Merry Christmas Baby (Knoedl)
Everywhere It's Christmas (Kern)
All I Want For Christmas (Knoedl)
Best Time Of The Year (Kern)
Celebrate The Season (Kern / Knoedl)
World Of Peace And Joy (Kern)
Sing Out All Over The World (Knoedl)
Home For Christmas (Kern)
Christmas Time (Knoedl)
This Wondrous Sight (Kern)
My Daily Prayer (Knoedl/Kleiser)
A Dickens Christmas (Kern / Knoedl)
(a suite in three movements)
I. The Inspiration
II. Dickens' Prayer
II. A Christmas Carol Too
Click the "Audio Samples" button to audition
each song. A new window will open with an
mp3 player.